UCOWR recognizes seven award categories: Warren A. Hall Medal, Early Career Award for Applied Research, Early Career Award for Extension/Outreach/Engagement, Friends of UCOWR, Education and Public Service Award, Ph.D. Dissertation Award, and JCWRE Paper of the Year. Recipients are nominated by UCOWR delegates and are recognized during the Awards Banquet at the Annual Conference. Awards may not be given if no nominations were submitted or a deserving recipient was not identified.
Click the links below to zoom to the current award recipients.
Congratulations to all awardees!
2018 Warren A. Hall Medal Recipients
2018 Friends of UCOWR Recipients
2018 Ph.D. Dissertation Award Recipients
2018 Warren A. Hall Medal Recipients
Dr. Leonard A. Shabman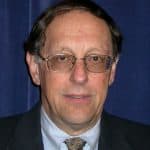 Leonard Shabman, Senior Fellow at Resources for the Future, joined RFF in 2002 after 30 years on faculty at Virginia Tech, where he also served (10 years) as the Director of the Virginia Water Resources Research Center. He received his Ph.D. from Cornell University. He also has served as staff economist at the United States Water Resources Council, Scientific Advisor to the Assistant Secretary of Army, Civil Works, Visiting Scholar at the National Academy of Sciences and Arthur Maass-Gilbert White Scholar at the Corps of Engineers Institute for Water Resources. Dr. Shabman's work balances research with advisory activities in order to have a bearing on the design and execution of water and related land resources policy. His publications include over 300 book chapters, journal papers, technical reports and outreach papers on decision making for water resources and water quality management. He has held leadership positions on governmental advisory committees in areas as diverse as the Great Lakes, the Missouri River Basin, Chesapeake Bay, South Florida and Coastal Louisiana. Shabman has served on or chaired 18 National Academy of Sciences Committees focused on water and related and resources management and in 2004 was recognized as an Associate member of the National Academy of Sciences.
Dr. Ari M. Michelsen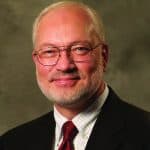 Awarded posthumously in grateful memory of our colleague and his life of service, accomplishment, kindness, and leadership in the water resources community.
Our past UCOWR President, Dr. Ari Michelsen, most recently served as Regents Fellow, Professor of Agricultural Economics, and the Resident Director of the Texas A&M AgriLife Research and Extension Center at El Paso. His research and teaching expertise was in integrated water resources management, valuation, conservation, and markets and policy analysis. Over the course of his life and career, Ari built a legacy of leadership and service in the water resources community. He served as President of the UCOWR Board of Directors twice, first from 2001–2002, and again from 2015–2016. He also served as a member of the UCOWR Board of Directors for the majority of the last two decades, taking an active role to ensure the continuing vitality of our organization by chairing and participating in countless conference and award committees, serving a five year term on the editorial board of our Journal of Contemporary Water Research and Education, and representing his employing institutions as a delegate for our organization throughout his entire career. Ari served on the boards of other professional organizations as well, such as the American Water Resources Association and National Institutes for Water Resources, and throughout his career utilized the unique strengths of such organizations to further research, education, and practice in water resources. Additionally, Ari shared his knowledge and experience in places like China, Russia, and Chile as a water resources consultant to national and international agencies. Dr. Ari Montgomery Michelsen, 63 years of age, passed away on September 28, 2017 after a long illness. His kind mentorship, active professional involvement, and remarkable contributions to the field of water resources will long be remembered in the UCOWR community and among his colleagues, friends, and family.
2018 Friends of UCOWR Recipients
David DeWalle, Pennsylvania State University
David R. DeWalle completed his early education at the University of Missouri in forestry (BS 1964, MS 1966) and Colorado State University in watershed management (Ph. D. 1969).  He began his career as an Assistant Professor in the School of Forest Resources at Penn State in 1969 with varying roles in teaching, research, administration and service.  DeWalle developed and regularly taught courses in water shed management, snow hydrology and forest microclimatology.  Over the course of his career DeWalle served as primary advisor to over 55 graduate students.  He officially retired in 2007 and now serves as Emeritus Professor of Forest Hydrology.
Richard Vogel, Tufts University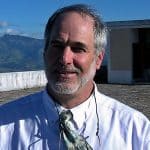 Richard M. Vogel has been a faculty member in the department of civil and environmental engineering at Tufts University since 1984.   In 2016 he became a professor emeritus.  He is the former director of the interdisciplinary graduate program in Water: Systems, Science and Society. Professor Vogel's research has covered a broad range of topics relating to: hydrology, water resource engineering, natural hazards and environmental statistics. In 2017 he became a fellow of the American Geophysical Union.   He is a past member of the board of directors of UCOWR and was the chair of the 2014 UCOWR annual conference which was held at Tufts University in Medford, Massachusetts.  The 2014 Conference was unique because it was the first UCOWR conference held on a university campus and it was the first national water conference that was jointly organized by three national water organizations: UCOWR, NIWR and CUAHSI.
2018 Ph.D. Dissertation Award Recipients
Julianne Quinn, Cornell University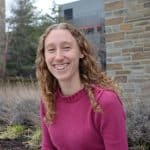 Julianne Quinn is a postdoctoral associate at Cornell University. She grew up in Bedford, NH before attending Columbia University in New York City. There she received a B.S. in Earth and Environmental Engineering with a concentration in Water Resources and Climate Risks in 2011. She began her graduate studies the following year at Cornell University, where she participated in an NSF Integrative Graduate Education and Research Traineeship on Food Systems and Poverty Reduction. She finished her Ph.D. in Civil and Environmental Engineering at Cornell in 2017. Her dissertation focused on better characterizing risks in water resources systems to inform the design of robust multi-objective control policies. She has continued working in this area as a postdoc at Cornell. This fall, she will be starting work as an Assistant Professor at the University of Virginia in the Department of Engineering Systems and the Environment. In her free time, she enjoys running and hiking. In November 2017, she qualified for the 2020 Olympic Trials at the Philadelphia Marathon.
Landon Marston, University of Illinois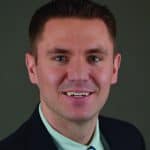 Dr. Landon Marston is an assistant professor in the Civil Engineering Department at Kansas State University. He earned his Bachelor's degree in Civil Engineering and MBA from the University of Kentucky, Master's degree in Civil Engineering from Texas A&M, and Ph.D. in Civil and Environmental Engineering from the University of Illinois at Urbana-Champaign. Before pursuing his doctorate, he worked for the U.S. Army Corps of Engineers as a hydrologic and hydraulic engineer. Dr. Marston's current research explores the interdependencies between water, food, energy, and trade in order to establish tradeoffs, assess risk, and inform sustainable policy and management of these resources. More generally, he is interested in how society and water resources co-evolve across different spatial and temporal scales in a coupled human-nature system. His research is inherently interdisciplinary, drawing from hydrology, water resources engineering, and economics. He has published papers on several related research areas, including water footprint assessment and virtual water trade, water reallocation, the water-food-energy nexus, and integrated river basin management. His work has been covered by The New York Times, TIME Magazine, and Los Angeles Times.
JCWRE Paper of the Year
JCWRE 162: 112-127. Water Budget Development for SGMA Compliance, Case Study: Ukiah Valley Groundwater Basin.
Authors: M. Flores Marquez, S. Sandoval-Solis, A.J. DeVicentis, J.P. Ortiz Partida, E. Goharian, B.R. Britos, P.T. Silva Jordan, G.T. McGourty, D.J. Lewis, R.B. Elkins, and J.M. Harper. University of California, Davis
Abstract: The Sustainable Groundwater Management Act (SGMA) is the first comprehensive legislative effort to reform groundwater management in the state of California after years of uncoordinated and voluntary governance of this resource. The objective of this study is to a) describe the SGMA in California, b) describe a method for estimating a water budget, and c) present the implementation of this method for the Ukiah Valley Groundwater Basin (UVGB). An estimated water budget, done on a monthly time step from 1991 to 2015, was developed in order to characterize the UVGB. Results suggest that the groundwater basin is not in overdraft, and that a portion of the Russian River is a gaining river (approximately 18,952 AF/y) from November to June, and a losing river (approximately 393 AF/y) from July to October. Furthermore, lateral groundwater movement is identified through the groundwater mass balance. Based on previous work and the results of this study, the observed later groundwater losses signify connectivity between the UVGB and the Sanel Valley Groundwater Basin (SVGB). Local groundwater managers and users can use this information to inform proposed action plans and monitoring protocols that will allow them to achieve and maintain groundwater sustainability in the UVGB by the year 2040.
Runner-up: JCWRE 160: 144-156. Design and Manufacturing of High Surface Area 3D-Printed Media for Moving Bed Bioreactors for Wastewater Treatment. 
Authors: O. Elliott, S. Gray, M. McClay, B. Nassief, A. Nunnelley, E. Vogt, J. Ekong, K. Kardel, A. Khoshkhoo, G. Proaño, D.M. Blersch, A.L. Carrano. Auburn University
Abstract: The specific surface area and topology of a biofilter media carrier is one of the most important parameters that determines the performance and efficiency of the system. In this work, mathematical models and 3D printing technologies were used to design and fabricate complex media designs that provide high specific surface area and refugia to protect biofilm from premature sloughing. Several gyroid based designs were proposed with specific surface area well beyond 2300 m2/m3. However, wall thicknesses and pore sizes that are prone to clogging determined a design that yields 1168 m2/m3 (133% larger than the baseline commercial K1 Kaldnes). Several moving bed bioreactors were constructed for laboratory testing with inoculation provided by wastewater from a fisheries operation. Preliminary results indicate that the 3D printed media can withstand the prevalent conditions in moving bed bioreactors, and that the NH3 removal rate of gyroid media is comparable to that of K1 Kaldnes. This work establishes the feasibility of using 3D printing for bioreactor media fabrication and allows for future topology optimization for enhanced operation. Future work is needed to investigate how these complex media designs might stimulate novel microbial assemblages and community metabolism that translate into yield efficiency gains in reactor performance.